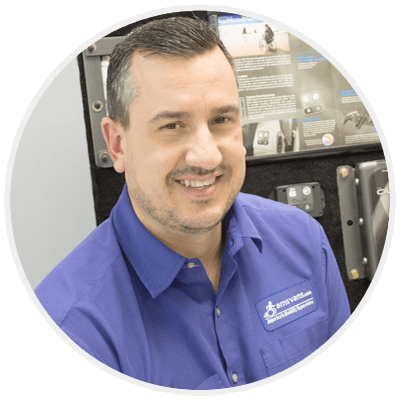 Make the Perfect Mobility Equipment Fit Perfectly
Get know-how, advice, and live demos from your AMS Vans mobility experts. Use the button below to connect with our Mobility Product Manager, Mr. Dan Arbuckle and his team of mobility equipment experts.
Wheelchair Van & Car Hand Controls
Hand controls allow people with physical disabilities to independently drive wheelchair vans and other vehicles, using alternative methods. Certified professionals configure hand controls to customized specifications in order to suit user preference and individual needs. AMS Vans offers nearly all brands of hand control systems, and our mobility equipment expert works with you to determine your requirements. Our hand controls do not interfere with standard driving and are available on all wheelchair vans.
Hand Controls for Cars
Hand controls can be paired with different steering wheel options to become adaptive driving systems and are available in many different configurations. Hand controls allow the driver to operate both the brake and gas pedals using levers that are typically mounted below the steering wheel and attach to the pedals themselves.
Hand Controls benefit a wide range of people with disabilities including amputees, wheelchair users, stroke survivors, and more.