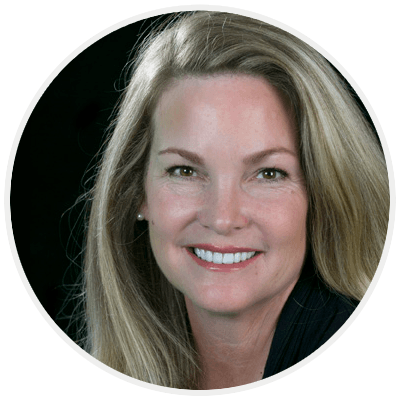 Get Your Questions Answered
Our knowledgeable, compassionate mobility consultants are ready to help you through your accessible vehicle purchase process with professional advice and expertise. Contact us today and experience the true mobility freedom you deserve.
View Our Inventory
Contact AMS Vans Sales Department
Tips for Buying a Wheelchair Handicap Vehicle
Buying a wheelchair accessible van shouldn't be overwhelming. Find articles about buying a handicap van below to learn how to save money buying a
used wheelchair van for sale
and other options available such as
new handicap vans
. We will help you make an informed decision about the type of wheelchair accessible vehicle that's the best fit for your lifestyle.
The 2009 Dodge Grand Caravan has added another award to their trophy case. J.D. Power and Associates recently announced that the Dodge Grand Caravan has been named the most dependable vehicle in its class.
Like any major purchase, buying a wheelchair accessible van is a huge decision, made even more meaningful by what's at stake--your mobility independence.
We have compiled a resource for your most frequently asked questions regarding handicap vans for sale, rent, and mobility conversions.
Compare the benefits and setbacks of purchasing a wheelchair accessible minivan, car, full size van, conversion van, truck, SUV, or motorcycle.
Refer to our Side Entry versus Rear Entry comparison chart to help determine which conversion van is best for you.
While the kneeling system serves a definite group of people with disabilities, many qualify for an AMS Vans wheelchair accessible van and will discover the AMS Vans conversion easily fits their needs.
New and used handicap van conversions are available nationwide for businesses including accessible taxis, nursing homes, on-emergency medical transport and other mobility companies.
AMS Vans combines used minivans, highly acclaimed, innovative conversion designs, an Internet-based "buy from home" program, and the best customer care in the industry to provide dependable, cheap handicap vans to customers who want affordable wheelchair transportation.
AMS Vans offers the safest, lowest price adapted vans for the best value in the industry. Whether you are buying a new or used handicap van or having your current Dodge, Chrysler, Honda, or Volkswagen minivan adapted for wheelchair accessibility, AMS Vans is your top choice nationwide.
Special needs vans are essential for wheelchair users to provide safe, reliable transportation. Something as simple as getting in and out of a non-accessible vehicle can put both the wheelchair user and the caretaker at risk for serious injury.
Moving a wheelchair user in and out of their regular wheelchair to a transport wheelchair can be dangerous. A wheelchair user does not have full use of his/her legs and cannot properly support his/her weight while going from wheelchair to the transport wheelchair, then from the transport wheelchair to the vehicle and back again.
More and more families are choosing AMS Vans LLC. for their wheelchair
accessible vehicles. The reason that we're becoming so popular is that
we care about what we do, and it shows in every step of our customer
service
If you are just beginning your search for a handicap accessible vehicle, this is a good place to start. You may not realize that almost any type of vehicle can be modified for wheelchair users—both drivers and passengers.
Are you or someone you know in the market for a wheelchair accessible van?
For a wheelchair user, the simple act of going to the store can be a very time-consuming and potentially dangerous
situation. AMS Vans specializes in custom conversion wheelchair minivans
at a low cost without compromising safety.
Transporting wheelchair users in a vehicle other than a disability van can be back breaking and put either you or your loved one at risk for serious injury. AMS Vans Handicap Vans has been in business for more than a decade and prioritizes on providing the best value and lowest price guaranteed!
Wheelchair ramp vans are vans specifically customized to meet the needs of wheelchair users and other people that have mobility hardships.
AMS Vans is the premier source for handicap minivans with nationwide handicap van sales and rentals.
The need for non-emergency medical transport is rising, as the US population simply ages or those with disabilities increasingly seek mobility to and from doctor appointments and routine hospital visits. Long-channel wheelchair accessible (and gurney accessible!) vans can offer the perfect solution.
You can purchase handicap accessories for vehicles at a number of places, including online wheelchair van dealerships and local dealerships, and you may be handy enough to install the accessory yourself--but you shouldn't and, if you're dealing with a reputable mobility equipment sales company, you can't.
Conversion designs, which have improved over several decades, now make accessible vans safer, more reliable, more convenient, and easier to use than ever before. The most innovative conversion designs have given rise to an expanding market of surprisingly affordable handicap accessible minivans--great news for the parent of a child with disabilities that require a wheelchair. If you're pondering the purchase of an adapted van, the information below should prove helpful.
If you're shopping for new or used handicap vans for sale, it's important for you to know that
your
weight combined with the weight of your wheelchair determines which van or vehicle style will suit your needs best. Do you know the combined weight of you and your mobility device?
As you'd expect, used wheelchair accessible vans for sale have been around since just after adapted vans were first manufactured and, typically, each conversion manufacturer develops a certification system for used vans. But they do have industry guidance.
Jump seats can be installed in both side entry and rear entry mobility vans, and you can purchase a single or double jump seat, depending upon the cabin configuration and the amount of passenger seating you require.
When shopping for wheelchair vans, you should be aware of the seating flexibility in adapted vans. A variety of accessible equipment is available to accommodate your cabin seating preferences.
A recent study by global public relations company Weber Shandwick confirms that shoppers seek out and give credence to customer reviews and testimonials moreso than the reviews of professional critics.
Use these top U.S. resources for help with disability, mobility, and wheelchair accessible transportation. Click on the logo to access the site.
Wheelchair Accessible Vehicles
2017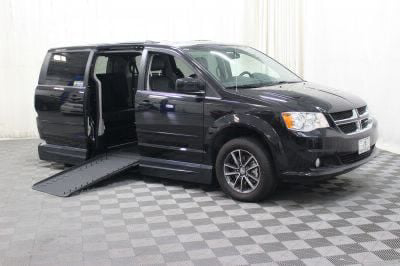 USED Dodge Grand Caravan SXT
NEW AMS Vans Legend II Conversion
$35,694 $36,194
---
Stock #:

545854T

Mileage:

41,822 Miles

Ramp/Lift:

Side Entry Bi-Fold Pwr

Features:

Bluetooth, Leather, 3YR/36K Conv Wrty, Remote Start, Driver Pwr. Seat Base, Kneeling, Lowered Floor
2017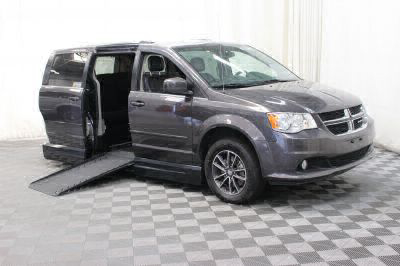 USED Dodge Grand Caravan SXT
NEW AMS Vans Legend II Conversion
$34,999 $35,499
---
Stock #:

558267

Mileage:

42,968 Miles

Ramp/Lift:

Side Entry Bi-Fold Pwr

Features:

Bluetooth, Leather, 3YR/36K Conv Wrty, Remote Start, Driver Pwr. Seat Base, Kneeling, Lowered Floor
2017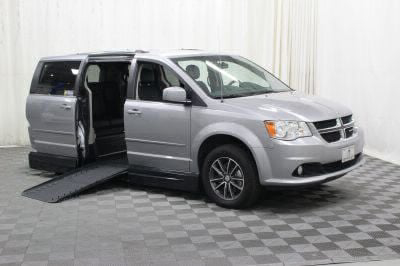 USED Dodge Grand Caravan SXT
NEW AMS Vans Legend II Conversion
$34,999 $35,499
---
Stock #:

547093

Mileage:

42,037 Miles

Ramp/Lift:

Side Entry Bi-Fold Pwr

Features:

Bluetooth, Leather, 3YR/36K Conv Wrty, Remote Start, Driver Pwr. Seat Base, Kneeling, Lowered Floor
---