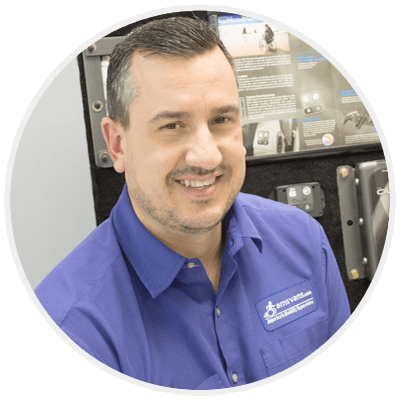 Make the Perfect Mobility Equipment Fit Perfectly
Get know-how, advice, and live demos from your AMS Vans mobility experts. Use the button below to connect with our Mobility Product Manager, Mr. Dan Arbuckle and his team of mobility equipment experts.
Single Fold Portable Wheelchair Ramp by Harmar Mobility
---
| Model | Starting At |
| --- | --- |
| Harmar AR102 | $178.00 |
Harmar Single Fold Portable Ramp
AR102, AR103, AR104, AR105, AR106
The single fold portable wheelchair ramp by Harmar Mobility is a portable solution for smaller elevation changes and easy wheelchair vehicle access. Designed for ease of use whether at home or traveling, the Harmar Single Fold Portable Ramp is the leader in powered mobility auto lifts. These commercial quality wheelchair ramps are lightweight, sturdy, and built to help you maneuver over curbs, steps, and other lower level obstructions. Simply unfold in one step and safely place the ramp over the elevation change. When not in use, the ramp folds in half again for easy storage. The superior surface offers improved traction while resisting dirt and wear making these single fold portable wheelchair ramps safe for indoor and outdoor use. AMS Vans offers the Harmar single fold ramp in 2'-6' in lengths and 30" in width. The AR102, or 2-foot ramp weighs 11 lbs., and the AR106, the 6-foot ramp, is 34-pounds.
Harmar Single-Fold Ramp Features:
Available in 2' - 6' lengths
Simple, length-wise fold for easy transportation
Heavy-duty 800 pound capacity
Width for all sizes - 30"
Harmar Single-Fold Ramp Specifications:
| Part #: | Description: | Weight: |
| --- | --- | --- |
| AR102 | 2' Single-Fold Ramp | 11 lbs. |
| AR103 | 3' Single-Fold Ramp | 17 lbs. |
| AR104 | 4' Single-Fold Ramp | 23 lbs. |
| AR105 | 5' Single-Fold Ramp | 29 lbs. |
| AR106 | 6' Single-Fold Ramp | 34 lbs. |
NOTE: This mobility equipment item is available for nationwide shipping direct to your home or office.
---
-
Portable Wheelchair Ramps
-
Mobility Equipment
-
Handicap Vehicles