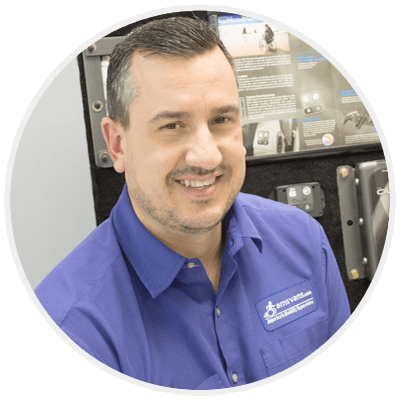 Make the Perfect Mobility Equipment Fit Perfectly
Get know-how, advice, and live demos from your AMS Vans mobility experts. Use the button below to connect with our Mobility Product Manager, Mr. Dan Arbuckle and his team of mobility equipment experts.
Extended reach attachment for portable ramps by Harmar Mobility
---
| Model | Price |
| --- | --- |
| Harmar AR300 | $70.00 |
Harmar Portable Ramp Extenders
Model AR300
Harmar AR300 portable wheelchair access ramp extenders are extenders that are bolted to Harmar Mobility portable ramp extenders to help bridge the distance over bumpers from wheelchair vans or other handicapped accessible vehicles. The extended reach is added on to the portable ramp of any size and work well with multi-fold portable ramps, too. These extenders help with elevation changes to make ascent or decent easier. The Harmar AR300 extenders use a unique non-skid metal surface for an excellent grip whether wet or dry. The non-skid metal surface helps with traction, resists dirt and wear. The unique material reduces weight, and the holes in the ramp surface allow water to drain.
NOTE: This mobility equipment item is available for nationwide shipping direct to your home or office.
---
-
Portable Wheelchair Ramps
-
Mobility Equipment
-
Handicap Vehicles