Financing Your Handicap Van
Many wheelchair van buyers aren't aware of all of the free and low cost mobility financing and funding sources available such as disability grants to help offset the cost of an accessible van or vehicle. Wheelchair van funding can be acquired through one or multiple sources such as finance packages through accessible van loans, disability grants, government programs for the disabled, Veterans (VA) programs, churches, and disability foundations related to individual disabilities. AMS Vans offers the most complete list of handicap van and mobility financing resources available for disabled people to help with funding or financing a wheelchair accessible van.
AMS Vans and Handicap Van Loans
AMS Vans works with a large network of handicap van loan programs that can help you finance a wheelchair van. Browse through the list of wheelchair van loans to see which loan programs can work for you. These banks understand the needs of mobility and have years of experience helping customers set up the best handicap van loans with mobility financing options such as penalty-free early payoffs, low interest rates, and terms as long as 10 years. Listed below, you will find a large resource of mobility funding programs to help you buy a new handicap van listed below such as disability grants, government programs, veterans associations, and more.
Other Wheelchair Van Funding Resources:
Wheelchair Van Loans
Find wheelchair van loans for people with disabilities to help fund a handicap accessible van or a mobility van conversion. Mobility loans for the disabled offer extra advantages and options such as penalty-free early payoffs, low interest rates, and terms as long as 10 years.
Disability Grants for Handicap Van Funding
Nationwide and local or state disability grants can help fund your wheelchair accessible van or other mobility needs such as equipment or individual financial needs.
Government Grants
Find government grants for the disabled nationwide to help pay for a mobility van or other finance needs. Money can be found with patience and through researching all the various government programs
Disabled Veterans Grants and Loans
There are multiple disabled veterans grant and loan funding sources available to veterans with a disability to help pay for a handicap accessible minivan. Public government programs as well as private companies offer disabled Veterans free money with grants or loans at great rates.
Disabled Child Grants for Special Needs Children
Taking care of a disabled or special needs child can be a challenging task, especially when you have limited resources. Fortunately, there is a wide variety of grants, financing programs, and other loans provided on the internet to help fund handicap equipment such as wheelchair accessible vans for your baby, infant, toddler, child, or young teenager.
Medicare Grants for Senior Citizens
Information about medicare grants in the United States for the elderly and disabled.
Church Grants and Fundraisers
Churches often provide grants or other financial help for disabled people to buy a wheelchair van or other mobility needs. Also speak to your local church about holding a fundraiser event to help you or your disabled loved one find funding.
National Funding with Grant and Loans By Disability or Injury Type:
Spinal Cord Injuries - Grants and Loans
Find grants and loans specifically created for people with Spinal Cord Injuries to receive help funding a handicap van or other adaptive equipment needs. Foundations and programs have been established nationwide and locally to get you the funding to regain your mobility with accessible transportation.
Additional Handicap Van Funding and Finance Resources:
Employer Funding - Employers are required to pay for assistive technology, mobility equipment, and other accommodations if the request meets the criteria for a reasonable accommodation under the Americans with Disabilities Act (ADA). Businesses with 30 or fewer employees (or $1,000,000 or less per year in total revenue) can receive a tax credit for the cost of accommodations provided to an employee (or customer) with a disability. This credit covers 50% of eligible expenditures up to $10,000 with a maximum credit per year of $5000. Contact the IRS for more info and mobility financing through employer funding..
Car Insurance - Liability insurance sometimes covers the cost of the van conversion.
Business / Fleet Mobility Financing:
Commerical Fleet Financing - provides company financing for commercial equipment through building partnerships.
State and Local Disability Grants and other Funding Help:
District of Columbia (Washington DC)
Hawaii:
Assistive Tech. Resource Centers of Hawaii (ATRC)
We understand the challenges of acquiring financial resources for funding your mobility with a wheelchair accessible vehicle. We're always in search of wheelchair van finance or mobility funding programs for your benefit.
Please be aware that not all foundations will be set up to accept grant requests for handicap vans to individuals. Details listed above are based on the information on the foundation's website. If a foundation you contact does not offer individual mobility grants, or if you know of additional disability grants or handicap loan finance programs, please contact us. We are building the largest source of grants, loans, and mobility finance programs online.
Help us build our list of funding opportunities for financing handicap vans! If you know additional mobility funding sources such as loans, grants, foundations, free money, or other finance programs, drop us an email, and we'll add them to our list!

---
New Conversions and Used Wheelchair Vans for Sale
AMS Vans offers affordable accessible mobility vans, minivans, trucks, and SUV's available in all of the major brands. Browse our inventory and find the perfect van that suits your needs. Don't buy just any used accessible van, ours are fully reconditioned.
Wheelchair Van Specials
2019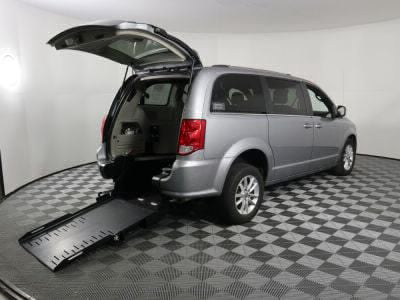 Dodge Grand Caravan SXT
AMS Vans Edge Conversion
$37,499 $37,999
---
Stock #:

20100066

Mileage:

41,461 Miles

Color:

Silver

Ramp/Lift:

Rear Entry Short

Location:

Call For Details

Features:

Backup Camera, Leather, 3YR/36K Conv Wrty, Remote Start, Driver Pwr. Seat Base, Lowered Floor
2020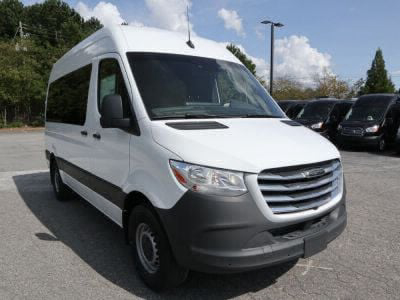 Freightliner Sprinter 2500
AMS Sprinter Rear or Side Conversion
$57,499 $58,499
---
Stock #:

20080143

Mileage:

10 Miles

Color:

White

Ramp/Lift:

Side or Rear Entry Lift

Location:

Call For Details

Features:

Backup Camera, Bluetooth, ADA Compliant
2017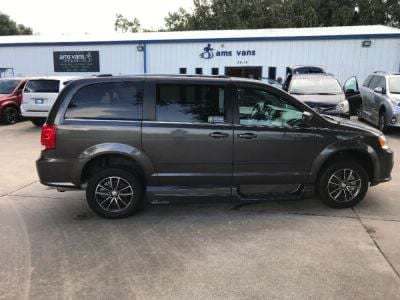 Dodge Grand Caravan SXT
VMI Northstar E Conversion
$33,499 $33,999
---
Stock #:

20070131

Mileage:

51,026 Miles

Color:

Gray

Ramp/Lift:

Side Entry In-Floor

Location:

Houston, TX

Features:

N/A