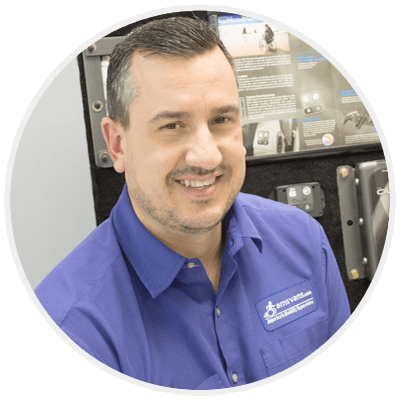 Make the Perfect Mobility Equipment Fit Perfectly
Get know-how, advice, and live demos from your AMS Vans mobility experts. Use the button below to connect with our Mobility Product Manager, Mr. Dan Arbuckle and his team of mobility equipment experts.
CCI Electric Parking Brake
---
| Model | Price |
| --- | --- |
| CCI Electric Parking Brake | $1,410.00 |
One-Button E Parking Brake
Creative Controls, Inc. designed this electric, push-button parking brake for wheelchair drivers and any others who struggle to put the normally hand- or foot-operated brake into place. The innovative, one-button device allows wheelchair users and those with limitations in upper body strength or manual dexterity to effectively engage the parking brake.
We can install the CCI Electronic Parking Brake in any wheelchair accessible van without altering the van's main structure. It functions with all AMS Vans LLC. handicap vans and most vehicles with ABS Braking Systems.
Price does not include installation.
Electronic Parking Brake Features:


Compatible with either the parking handle or foot pedal push parking brakes


The E Parking Brake can be operated with an electronic control panel or any size button to increase compatibility with the driver's specific disability needs


Increasing torquing feature


Interfaces with the vehicle's mechanical cable for the parking brake


Compact design, ideal for a custom fit and applications


Compartment is weather resistant and houses all of the components


Call our mobility consultants to find out how to get the CCI electronic parking brake installed in your vehicle today!
---
-
Driving Aids
-
Mobility Equipment