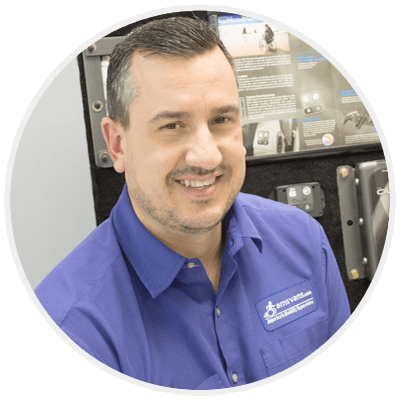 Make the Perfect Mobility Equipment Fit Perfectly
Get know-how, advice, and live demos from your AMS Vans mobility experts. Use the button below to connect with our Mobility Product Manager, Mr. Dan Arbuckle and his team of mobility equipment experts.
Driving Aids for Wheelchair Vans
Driving aids for drivers with a disability assist with mobility needs in order to safely utilize a wheelchair van, an accessible vehicle, or even a non-modified vehicle. Find handicap products that help you on the road and keep you safe, and mobility aids that help you get in and out of the car.
Adapt-Solutions Power Pull
Designed for wheelchair users that enter and exit a mobility van independently, the Power Pull is a electronically controlled cable that attaches to the wheelchair and assists the user going up and down the handicap van ramp.

$2,400.00


*Price does not include installation
If you don't find the driving aids or wheelchair van equipment that you need, call our mobility equipment department and we may be able to locate the right product for you.