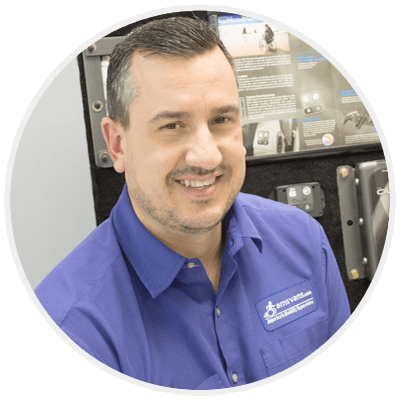 Make the Perfect Mobility Equipment Fit Perfectly
Get know-how, advice, and live demos from your AMS Vans mobility experts. Use the button below to connect with our Mobility Product Manager, Mr. Dan Arbuckle and his team of mobility equipment experts.
Pedal Extensions for Gas and Brake Pedals
---
| Model | Price |
| --- | --- |
| Mobility Products and Design Pedal Extenders | $580.00 |
Decrease the distance between your foot and the gas or brake pedal with custom installed pedal extensions for drivers with disabilities. This particular model allows for 3" - 5" of extension, but we can achieve other lengths if you require a different measurement.
The accelerator extender has a low reach, which allows the driver to rest his or her heel on the floor while pressing the pedal. This helps reduce arthritic discomfort in the foot and knee.
Those with disabilities should have the freedom to go to the places they want to go and do the activities they want to do. So, AMS Vans provides handicap van mobility aids, allowing wheelchair users and others with disabilities to have the freedom that they want. Take advantage of these technologies and gain your mobility freedom!
Price does not include installation.
---
-
Driving Aids
-
Mobility Equipment