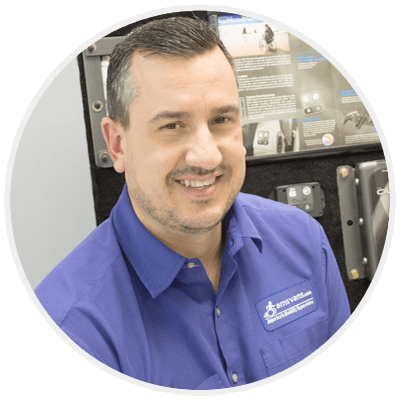 Make the Perfect Mobility Equipment Fit Perfectly
Get know-how, advice, and live demos from your AMS Vans mobility experts. Use the button below to connect with our Mobility Product Manager, Mr. Dan Arbuckle and his team of mobility equipment experts.
Handybar Disability Aid
| Model | Price |
| --- | --- |
| Handybar Disability Aid | $39.95 |
The Handybar disability aid increases independence while drastically reducing the risk of falls. Its main purpose is to help people get in and out of vehicles, including 95% of all newer cars. Easy to use and featuring a lifetime guarantee, the Handybar AMS Vans offers includes two additional safety features: a window striker and a seat-belt cutter. The user who needs support entering or exiting their vehicle grasps the lightweight (less than a pound) Handybar's non-slip handle, and inserts its metal shaft into the vehicle's striker plate. The handle is wrapped in neoprene rubber (the same material found in wetsuits), while the metal shaft features aircraft aluminum that can accommodate users weighing up to 350 lbs. Because the U-shaped striker plate of a vehicle is one of the strongest parts of a car--designed to keep your door closed in the event of a side-impact collision--the likelihood of the Handybar damaging the striker plate is very low. (While most newer cars have this U-shaped striker plate, some older models have a post-shaped striker or a light switch in the plate, which would prevent the Handybar from working properly.) The Handybar's lifetime guarantee ensures that the manufacturer will replace it, should it break, so long as it was being used for its intended purpose on a compatible car within the suggested weight capacity. Healthcare professionals recommend the Handybar, which has been featured in the
Wall Street Journal
and the
Today Show
, and has won awards like the 2007 da Vinci Award, presented by General Motors and the MS society. Among the plethora of handicap vehicle accessories to aid in mobility, the Handybar truly stands out as an innovative, quality product.
---
-
Driving Aids
-
Mobility Equipment