NHTSA 2010 Wheelchair Van Crash Test Standards
The National Highway Traffic Safety Administration (NHTSA)
The NHTSA is responsible for devising and implementing safety standards for all vehicles bought and sold in the United States. NHTSA's primary responsibility is to make sure vehicles pass requirements designed to (according to its mission statement):
"Save lives, prevent injuries and reduce economic costs due to road traffic crashes, through education, research, safety standards and enforcement activity."
Many of us have seen crash testing in TV commercials and/or public service announcements, but how exactly does crash testing operate?
All wheelchair conversion vans must successfully pass front, side, and rear impacts without losing fluid from the gas tank. Pre-September 2009 standards required all vans to withstand 30 mph impacts from the front and back with 33.5 mph impacts from the side.
The side chosen for testing depends on the location of the fuel filler neck (the side used for pumping gas).
After each test, the vehicle is turned upside down on huge lifts--a 180-degree flip with tires in the air and roof facing the ground. The vehicle must not lose any fluid during the rotation or it immediately fails the test.
New standards went into effect September 2009 (for 2010 vehicles) that required satisfactory completion of 35 mph front, 50 mph rear, and 33.5 mph side collisions. Undoubtedly, the most significant change was the 20 mph increase on rear impact testing of conversion vans.
AMS Vans proved successful in all three 2010 standards--one of the very few wheelchair van companies to successfully pass NHTSA's newer, more rigorous requirements in the first attempt. The AMS Vans Edge conversion earned its stripes in December of 2007, and the Legend followed in February of 2008. The AMS Vans
handicap accessible minivan conversions available to buy from our inventory
are considered as safe as their original stock car counterparts.
Have you ever noticed the tests' battering ram is angled during the side impact test? If you pay close attention, you can see that the device used to ram the van is specifically angled at 45 degrees in an attempt to replicate a real-life scenario. In fact, everything from the speed of impact to the full-scale anthropometric test devices (the test dummies) are specifically designed to simulate real-world conditions.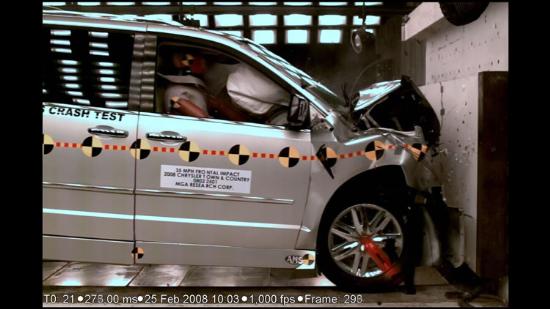 NHTSA's core values state
"(We are) committed to providing the most accurate and complete information available to our customers, the American traveling public, in a helpful and courteous fashion. In all of our activities, we will strive to meet or beat our established deadlines for providing customer service."
AMS Vans LLC. shares similar core values; the conversion vans we sell are Strong, Simple, and Safe. We pride ourselves on selling
wheelchair accessible conversions
built pride and we're proud they are one of the few mobility conversion van companies to have met and exceeded NHTSA's 2010 crash standards for
handicap conversion vans
.
Click here
to check out safety videos relating to the AMS Vans brand of wheelchair van conversions.