Short Channel Rear-entry Conversion
Live life on the Edge! Experience freedom in our multi-passenger, AMS Vans Edge rear-entry wheelchair ramp van conversion. Perfected through years of research and standard crash-testing, the AMS Vans Edge rear-entry conversion is one of the easiest to operate and safest handicap-van conversions on the market.
With the AMS Vans Edge, the user enters the van through the rear hatch into the third-row area, retaining the middle-row seats for maximum ambulatory-passenger seating. The manual ramp is lightweight and spring-loaded for ultimate ease in lifting, and it's compliant with the Americans with Disabilities Act (ADA).
Along with our 100% satisfaction guarantee upon delivery, you also receive detailed warranties covering the AMS Vans Edge wheelchair-accessibility conversion itself on the floor pan and ramp system. The work doesn't void the van's new or remaining OEM warranty. AMS Vans lowers the minivan's floor 10" and applies an industrial urethane-based anti-skid surface to it. A set of Q'Straint M-Series wheelchair tie-down straps is provided at no charge with every newly modified rear-entry handicap van.
Most late-model Chrysler Town & Country and Dodge Grand Caravan minivans can have the Edge conversion. Its layout is perfect for the single-wheelchair family or commercial uses like accessible taxis or non-emergency transport of patients with disabilities. Every previously owned model scheduled to receive the AMS Vans Edge rear-entry van conversion undergoes a 134-point inspection before, during, and after the modifications. To manufacture one of the strongest and safest wheelchair-accessible minivans on the road, AMS Vans starts with quality!
If you're unsure whether the AMS Vans Edge or another conversion is right for you, take a look at our rear entry vs. side entry wheelchair van comparison chart, or call us to speak with one of our mobility consultants today. It's our responsibility to improve your ride comfort and give you peace of mind.
Need 2 wheelchairs, see our Edge II conversion rear-entry and ADA compliant.
Features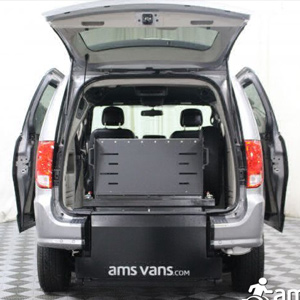 Channel Width :
33 inches
Lowered Floor :
10 inches
Ready to own your wheelchair accessible vehicle?
Apply Now
Browse Other Conversions By Model
Don't Just Take Our Word for it
Over 17,000 customers served and a 4.8 star Google rating.